Charity Ugwuanyi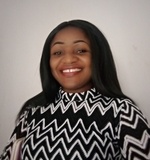 About
Charity Ugwuanyi is a broadcast journalist and a voiceover artist with over four years of experience. She has over 50 commercial jingles to her credit and works tirelessly to add more feathers to her cap.
Skills
Presentation and public speaking, voice acting, and remote worker.
Experience
Radio presenter, news reporter, voiceover artist, and news editor.