Seyi Oluboba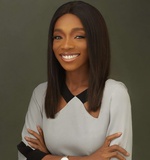 About
I'm a Female Voice Over Artiste & Project Manager based in Lagos, Nigeria. I offer a smooth, crisp, calm & relaxing vocal texture and range. I would love to work with you to bring your projects to life!
Skills
Commercials, Audio Books, Narrations, Explainer Video, School Course Assistant, Audio Editing.
Experience
I have had years of Podcast Hosting Experience, Audio Editing and Voice Over experience. I have worked on audio projects with brands like Close up, Keystone Bank, Help Central, The Destiny Trust, Teaps studios as well as Google Nigeria.