Chinedum Eziuku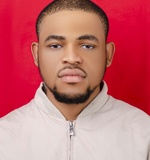 About
When I get to you know I have a vibrant personality, I'm up to task and full of ideas on how I can make whatever I do, better and I do not let my creativity be limited because I believe that anything is possible as long as I put mind to do it.
Skills
Voice-acting, stage acting, driving, opera singing, drawing, video editing, animation, cinematograp
Experience
I have worked as a stage actor for 7 years and have gone through an Masterclass on acting and filmmaking, I have also been a freelance videographer and artist for 8 years. I am currently working as a visual communication designer for two companies.