Gloria Ogaga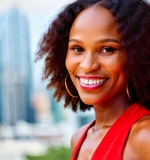 About
Meet Gloria, a seasoned voiceover talent with a passion for bringing scripts to life through the power of the human voice. From friendly and conversational to authoritative and dramatic. "I am ready as soon as you are"
Skills
Voice Over, Voice Acting, IVR, Audiobook, Narrations.
Experience
With 4 years experience in the voiceover industry, I've lent my voice to a diverse range of projects, from ads and commercials to radio jingles and corporate narrations.