Funmi Omoboriowo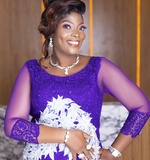 About
I am a versatile and multi award winning broadcast journalist with over 15 years experience. Also a naturally curious person who reads a lot. I speak both English and Yoruba languages and broadcast in both.
Skills
Voice Over, Broadcasting, Presentation, Production, Script Writing, Voice Acting, Performance
Experience
I handle presentation, news casting, Scripting and producing programmes. I have handled different types of programmes ranging from Breakfast Shows to Women programmes, documentaries, radio drama, and even entertainment programmes.